Wildfox Tee (loving this one) – Joe's Shorts – BDG Hat – Target Shoes
Ray Ban Sunglasses – Michael Kors Purse
Seems like quite the contrast from yesterdays outfit post, but whatev.
So this shirt. I originally bought it because of the fact that it says "young and in love".
My favorite band, Brand New, has a song called Soco Amaretto and Lime
and towards the end of the song they repeat over and over
"your just jealous cause I'm young and in love", so needless to say I thought it was a cool shirt.
Plus, I'm young (kind of) and in love – so it's a win-win.
I love the fabric, it's super soft and I love the frayed edges, however the cut of the shirt kind of weirds me out.
You can't really tell in the pictures, but it like flares out on the sides and I think it makes for an awkward shape.
(I feel like a lot of Wildfox shirts are cut like this though)
It's not horrible because I still wear it, but whatever, guess I needed something to complain about 🙂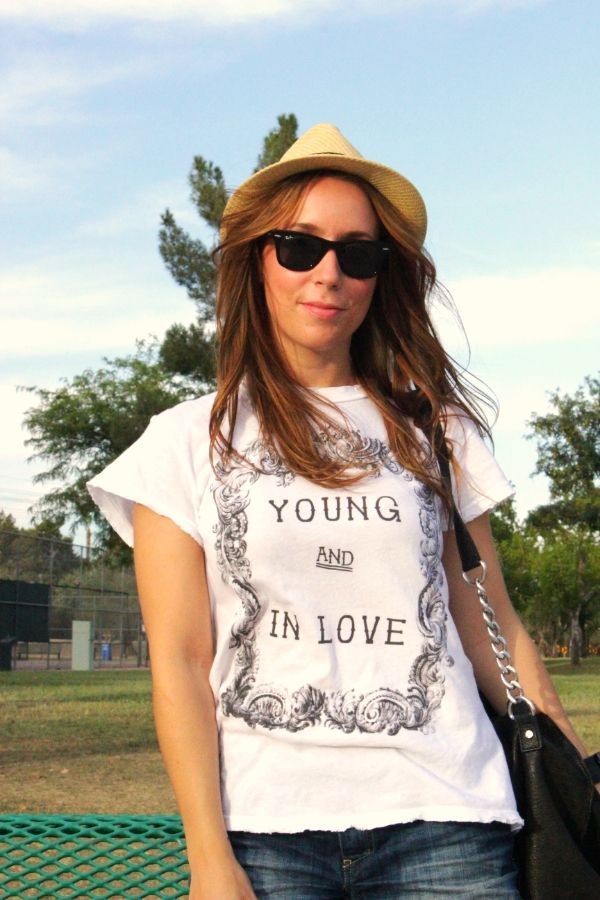 Incase you wanted to take a listen – I highly recommend you do 🙂